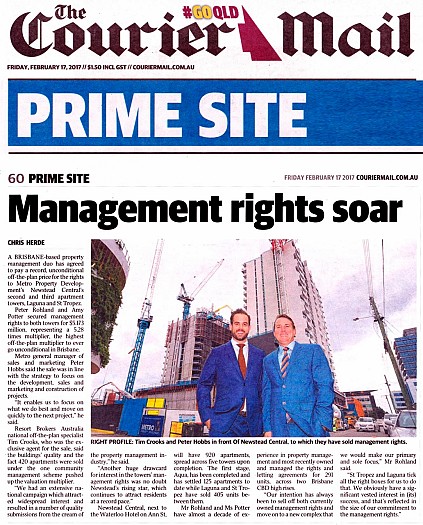 Fri, 17 Feb 2017, Courier Mail
Management rights soar
A BRISBANE-based property management duo has agreed to pay a record, unconditional off-the-plan price for the management rights to Metro Property Development's Newstead Central's second and third apartment towers, Laguna and St Tropez.
Peter Rohland and Amy Potter secured management rights to both towers for $5.173 million, representing a 5.28 times multiplier, the highest to ever go unconditional in Brisbane.
Metro general manager of sale and marketing Peter Hobbs said the sale was in line with the strategy to focus on the development, sales and marketing and construction of projects.
"It enables us to focus on what we do best and move on quickly to the next project," he said.
Resort Brokers Australia national off-the-plan specialist Tim Crooks, who was the exclusive agent for the sale, said the buildings' quality and the fact 420 apartments were sold under one community management scheme pushed up the valuation multiplier.
"We had an extensive national campaign which attracted a widespread interest and resulted in a number of quality submissions from the cream of the property management industry," he said.
"Another huge drawcard for interest in the towers' management rights was no doubt Newstead's rising star, which continues to attract residents at a record pace."
Newstead Central, next to the Waterloo Hotel on Ann St, will have 920 apartments, spread across five towers upon completion. The first stage, Aqua, has been completed and has settled 125 apartments to date while Laguna and St Tropez have sold 405 units between them.
Mr Rohland and Ms Potter have almost a decade of experience in property management and most recently owned and managed the rights and letting agreements for 291 units, across two Brisbane CBD high rises.
"Our intention has always been to sell off both currently owned management rights and move onto a new complex that we would make our primary and sole focus," Mr Rohland said.
"St Tropez and Laguna tick all the right boxes for us to do that. We obviously have a significant vested interest in (its) success, and that's reflected in the size of our commitment to management rights."