23 Sep 2021
Words Ben Hall Informer Issue 100
Six of the Best Glamping & Eco Opportunities
Ecotourism and glamping are two of the fastest growing sectors in the tourism and accommodation industries, and ResortBrokers has six great investment opportunities which are perfectly positioned to capitalise on this incredibly high consumer demand.
AZZURRA ECO RESIDENTIAL RESORT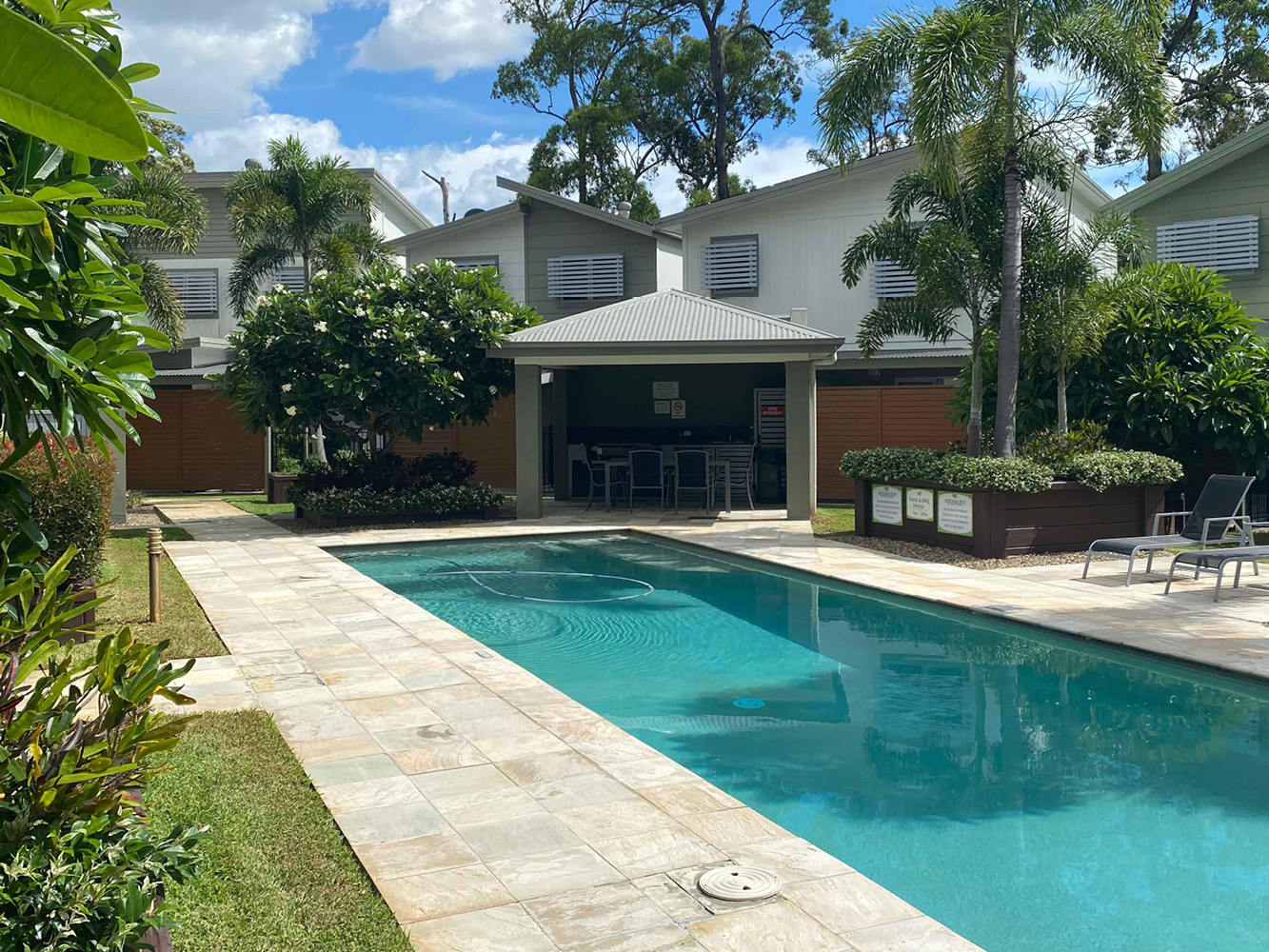 Azzure Eco Residential Resort, QLD
MR sale | Price $1.195 million
Nestled amongst a nature reserve, overlooking the water in Varsity Lakes, Azzurra Eco Residential Resort, is one of the Gold Coast's best kept secrets. This luxury designer ecoresort offers a peaceful location in one of the most sought after postcodes on the coast. The premium resort-style complex consists of 49 individual lots across a variety of layouts from 1, 2 & 3 bedrooms.
Finished off to a high standard, these elevated residences enjoy wonderful water and parkland views and this ecoresort business is the "the ultimate lifestyle business".
The premium facilities are very easy to maintain with a beautifully maintained tropical resort pool, two BBQ areas and a secure undercover car park, all at a very high standard.
This is a management rights business with topped up 25 year agreements and with 26 lots managed in the permanent letting pool, there is some potential for upside growth.
This associated real estate is an amazing and premium manager's 3 bed, 2.5 bath, 3 car villa+ separate office with a downstairs dual living/workshop space + ample storage.
Broker Contact
Todd Warner | 0438 170 763 | todd@resortbrokers.com.au
Nightfall Wellness Camp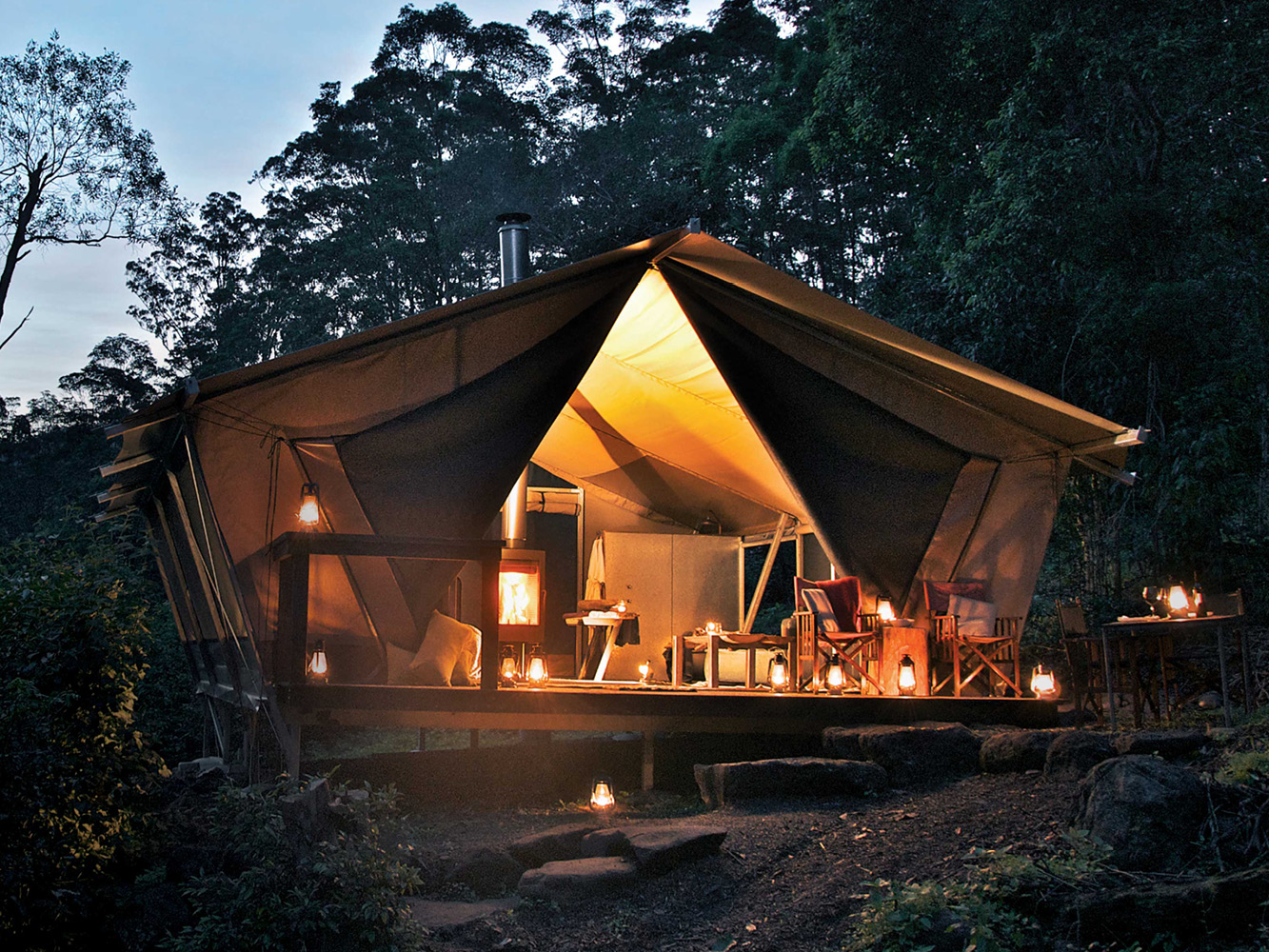 For sale by EOI
Nightfall Wellness Camp sits on 257 acres of lush tropical forest in a deep gorge escarpment and Christmas Creek flows 365 days per year through the property for some 1.4 kilometres. Located at the edge of Lamington National Park in south east Queensland, the camp's entire footprint is less than 5 acres of the 257 acres, leaving the other 252 acres as untouched beautiful forest. The safari tents themselves need to be seen to be believed.
Lamington's protected landscape is one of the most species-rich and diverse areas of Australia and includes part of the world's largest tract of Gondwana sub-tropical rainforest.
Each 62 sqm tent is hand-built and set up to provide an expansive feeling with interiors that can be altered to suit the mood or season with views in every direction.
The setting perfectly captures each tent's private forest setting and the many birds who also call the trees home. If the tent walls are down, and it's winter, a sense of cosy intimacy pervades.
This is luxury glamping at its best. As the light of the fireplace flames flicker on the canvas ceiling and the smell of wood-smoke hangs gently in the air, the real world is somewhere out there.
Broker Contact
Steve Campbell | 0407 220 668 | steve@resortbrokers.com.au
Greg James | 0416 247 068 | greg@resortbrokers.com.au
ECOASIS RESORT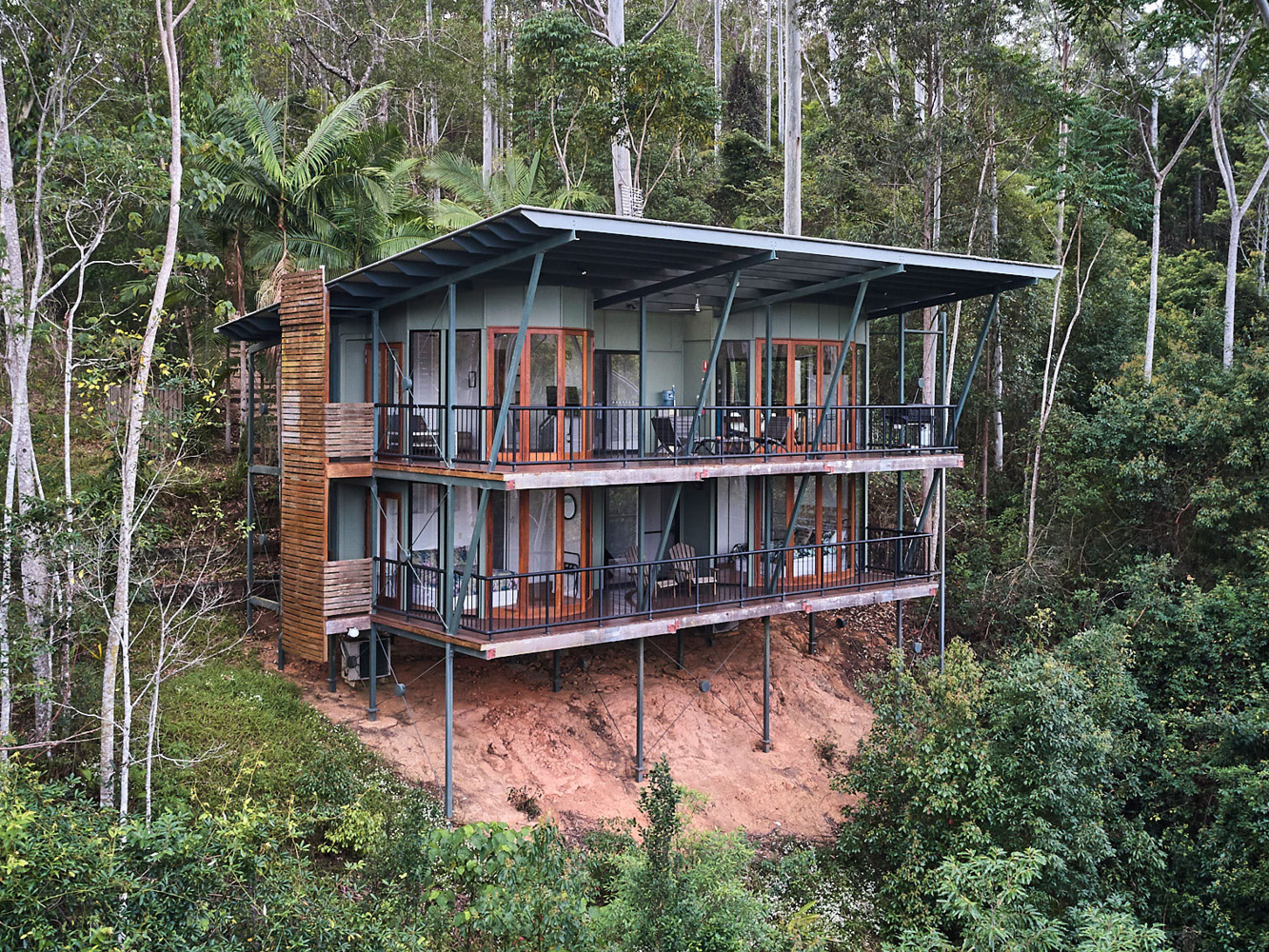 Price: $3.85 million (neg)
Set on 112 acres of land, with views to the iconic Mount Warning, this property boasts six beautiful chalets that are nestled in the pristine and ancient world of the northern NSW hinterland. Just two hours from Brisbane, 40 minutes from Gold Coast airport, 35 minutes from Byron Bay, but a million miles from everywhere, this can quite simply be described as one of the best eco-resorts in northern NSW.
ecOasis Resort boasts 6 two storey and extremely large chalets that exude luxury and comfort. The property is designed so guests can experience a real closeness with nature.
Each chalet is positioned for privacy, some with expansive views across the valley, others nestled within the ancient rain forest. Each chalet affords a different perspective of the property.
Yet another feature located on the property, is an area that allows for bush walking. Also within the property a koala colony resides as well as various endangered species of flora and fauna.
Built on 112 acres, ecOasis has a DA for a further chalet to be constructed as well as a very large common room that can be used for further accommodation or event space.
Broker Contact
Greg James | 0416 247 068 | greg@resortbrokers.com.au
mist at Cape Tribulation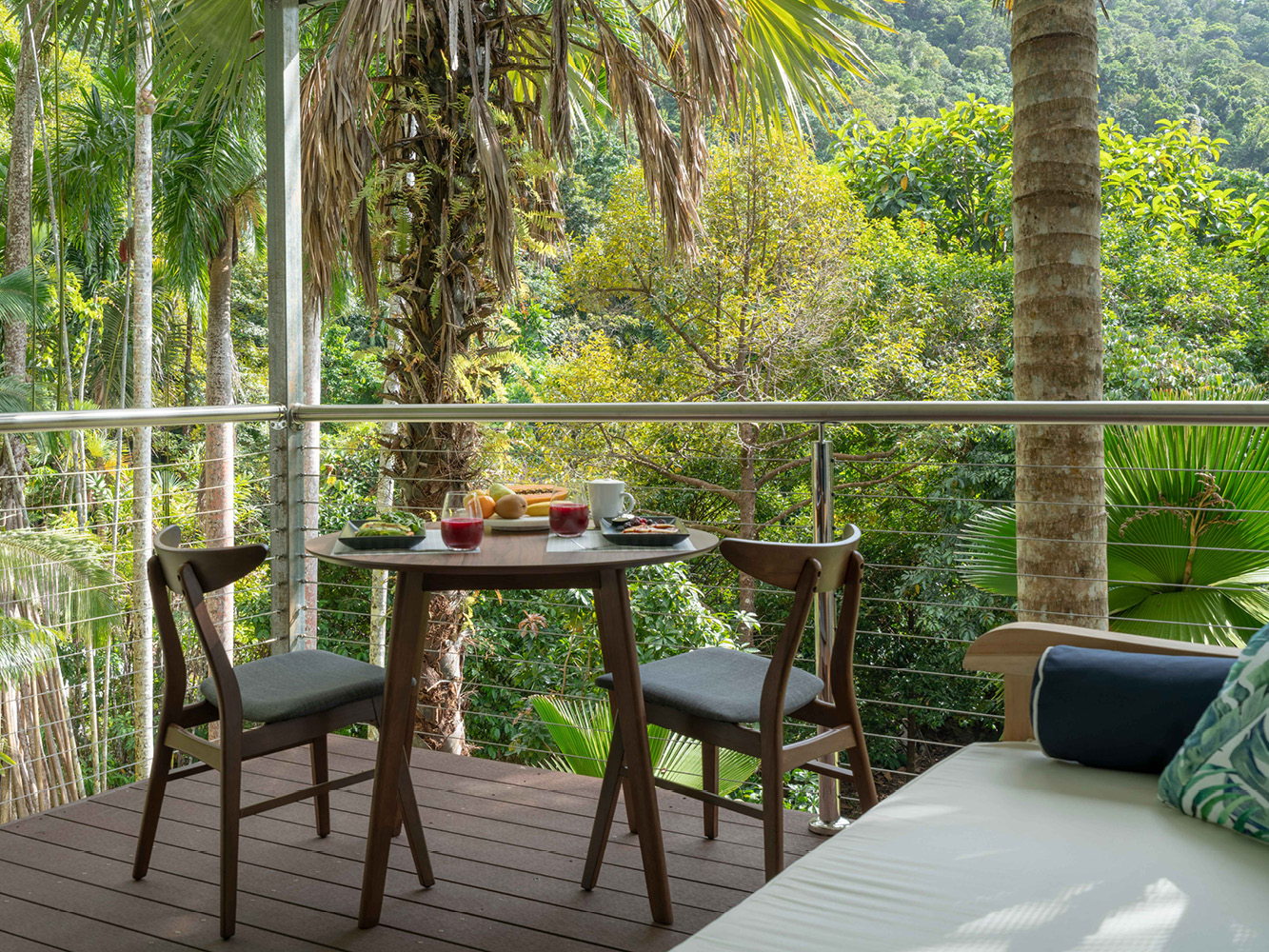 Mist at Cape Tribulation, NTH QLD
Price $1.295 million
Located in the iconic Cape Tribulation, and only 52 kilometres north of Port Douglas, mist at Cape Tribulation was built in 2017 and is the newest eco luxe accommodation in the area. Each of the three elevated pavilions has more than 50 square metres of indoor and covered outdoor living space, with expansive views of the World Heritage Rainforest and orchard and is aimed at travellers at the luxury end of the market.
Each pavilion features air conditioning, king size bed, pillow menu, 3-seater sofa, dining area, kitchenette with full size fridge, coffee machine, luxury bathroom and large covered outdoor deck.
Brother and sister team Paul and Mary Martin built mist themselves from the ground up in 2017 after they bought what was effectively an out-of-control patch of jungle in Cape Trib.
The property now is off-grid and has new state of the art solar and battery storage with back-up generators. The property also has a bore, a mountain fed year-round creek, and new sewerage system.
The business enjoys the number one ranking with TripAdvisor for Cape Tribulation, and all reviews are 5-star, and it is rated 10 stars on Google Business. It's easy to see why.
Broker Contact
Shane Croghan | 0418 451 006 | shanec@resortbrokers.com.au
Castaways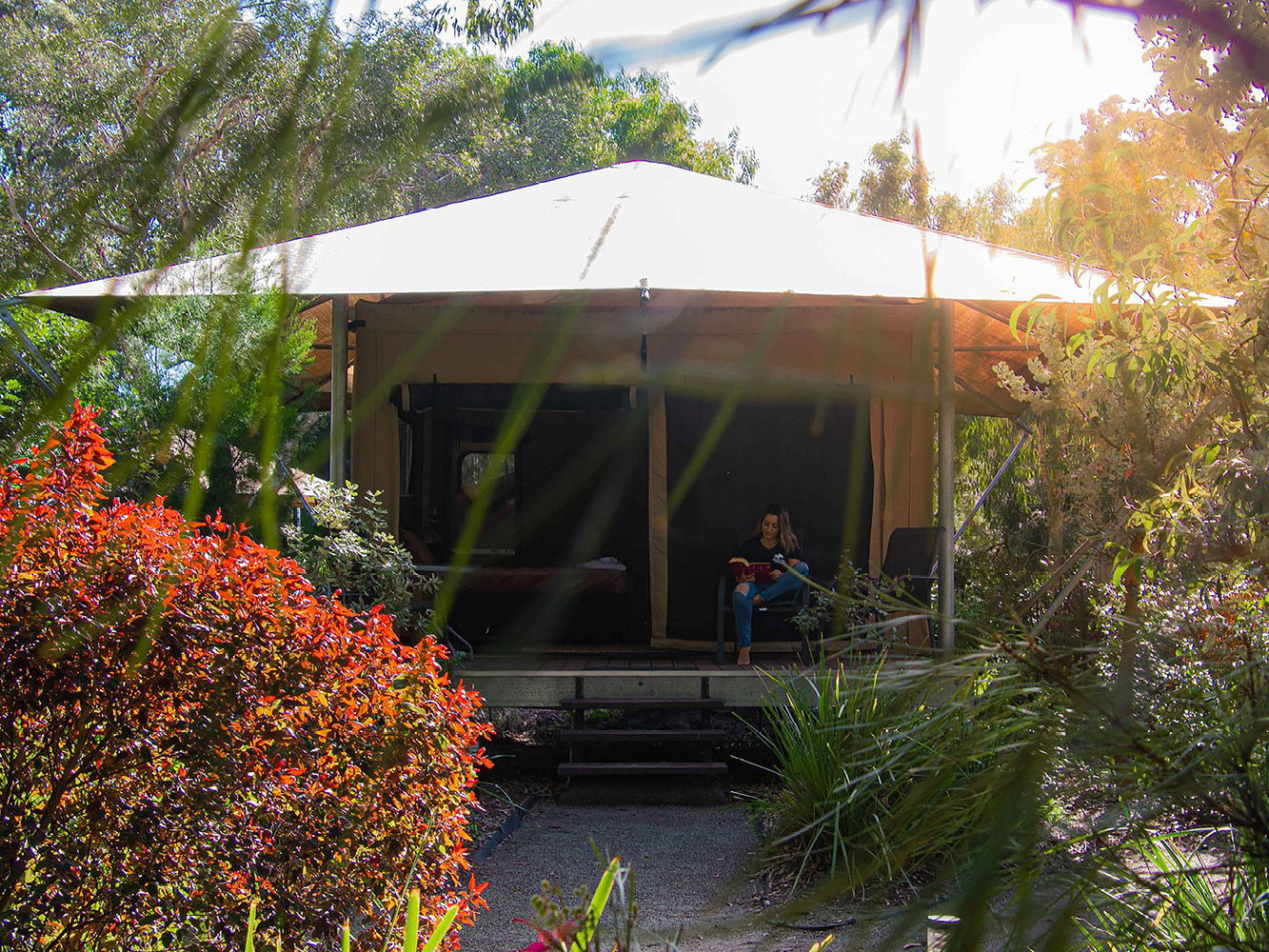 Price $3 million
Castaways is a fully licensed store / café, which also includes a range of different accommodation options which include eco-cabins which were built for the glamping market. Located in the township of Bulwer, Castaways is an easy 10 kilometre drive from the vehicle ferry landing point at Tangalooma Wrecks. The accommodation side of the business comprises 11 eco-cabins, eight self-contained units and a large self-contained lodge.
The eco cabins have been a hugely popular addition to the business and helped drive revenue and have been built on a neighbouring piece of land surrounded by beautifully landscaped gardens.
The eco cabins have been very popular with guests and have helped Castaways benefit from the resurgence in domestic tourism when the pandemic restrictions lifted in June 2020.
Castaways is located on the north-western coast of Moreton Island, 40 kilometres north-east of the Brisbane CBD, and is reached by Micat ferry which departs from 14 Howard Smith Drive, Port of Brisbane.
This is a destination which is set to become the "Whitsundays of the south" under bold new plans being devised by the region's tourism industry figures.
Broker Contact
Alex Cook | 0467 600 610 | alex@resortbrokers.com.au
Steve Campbell | 0407 220 668 | steve@resortbrokers.com.au
South Coast Retreat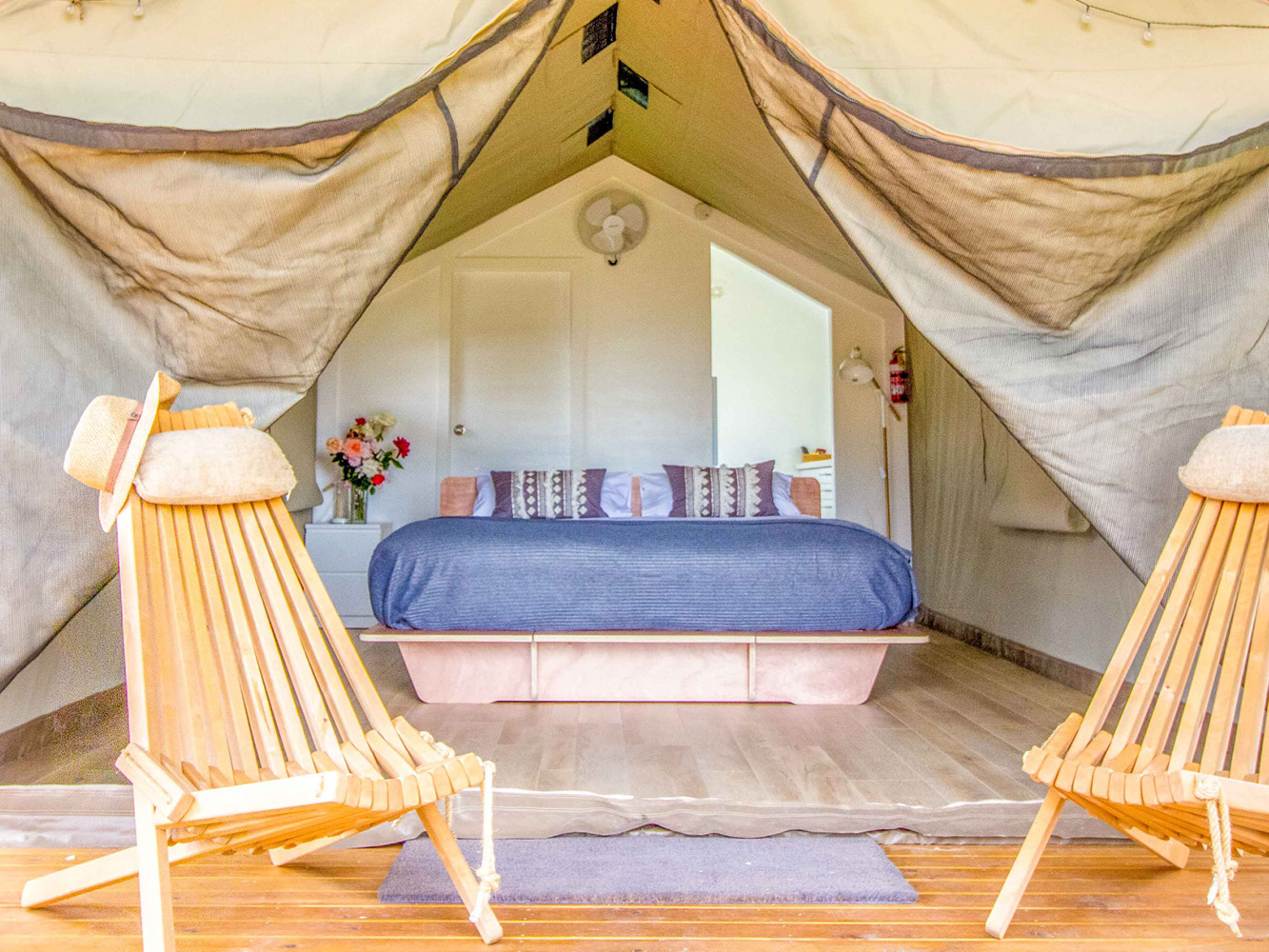 For sale by EOI
With waterfront accommodation including six safari tents built specifically for the glamping market, South Coast Retreat provides that perfect combination of an immersion in nature and decadent luxury located on landscaped grounds on the tip of Greenwell Point in NSW. The accommodation also includes nine cabins and one waterfront house set across an acre of absolute waterfront land. Of the six glamping tents, three have partial water views and the other three have daybeds.
All glamping tents have EcoFurn chairs to recline in as the sun goes down ahead of an evening relaxing by the fire pit. This is also the place to be in the mornings to catch the sunrise.
Glamping in the luxury safari tents is warm in winter with electric heating, soft and warm blankets and an electric blanket. This is all about being at one with nature with creature comforts.
In summer, the south coast climate and sea breezes and quiet wall fan help to keep everyone cool. Inside, each glamping tent has a beautiful and super comfortable queen-sized bed.
The bathroom is large and modern and the oversized shower includes a dual shower head. The compact kitchen has a full sized fridge, microwave, kettle and toaster and on the deck is a BBQ.
Broker Contact
Russell Rogers | 0416 166 909 | russell@resortbrokers.com.au