30 Jul 2021
Words Ben Hall
For the second year in a row, Nathan Eades named Sales Broker of the Year
In just a few years he's established himself as one of the best in the business, and Nathan Eades received official confirmation when he was named Sales Broker of the Year in 2021 by the Australian Resident Accommodation Managers Association's (ARAMA).
At a special event held at the Victoria Park events centre in Brisbane, Nathan was presented with the award which recognises the broker who makes the most significant contribution to the success of the management rights industry which generates $55.5 billion to the Australian economy annually. Nathan also won the award in 2020.
"It's a real honour to be recognised by the industry body that represents not just the management rights operators, but all of us that work within the industry," Nathan said after the receiving the award.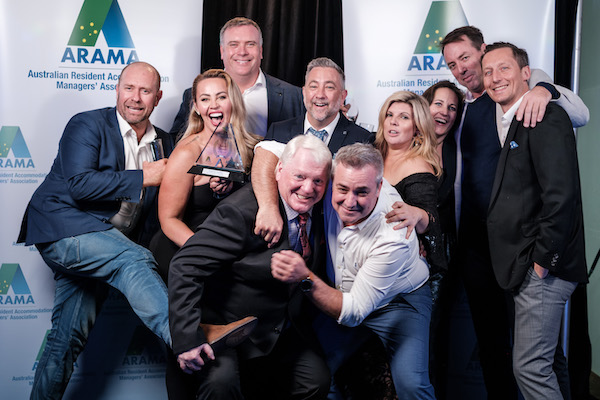 "ARAMA is a not for profit organisation that dedicates itself to its members in the management rights industry and (ARAMA CEO) Trevor Rawnsley and his team of representatives around the country do an amazing job," he said.
"I think in the last two years we've really been behind ARAMA and what they can do, not just for us, in that they've been able to provide a really good management rights induction program which has helped the new operators on their path to success in their new businesses."
Trevor Rawnsley said the Broker of the Year Award was designed to reward and highlight the professional skills and experience within the industry as well as recognise people who make a significant contribution.
Mr Rawnsley was full of praise for Nathan, a Brisbane management rights specialist at ResortBrokers, and said he was leading real and positive change within the management rights industry.
"Nathan is a young, driven and determined Sales Broker who with the backing of the very talented ResortBrokers team have made a massive contribution to ARAMA and Industry over some really difficult trading conditions," Mr Rawnsley said.
Nathan Eades is now one of the most prolific management rights agents in Australia and has established himself as one of the most respected and hard working professionals in the business. He has successfully settled on more than 70 properties in just five years with ResortBrokers with a total value of more than $150 million.
ARAMA is a membership based, not for profit, peak industry body which represents the interests of people who are involved in Management Rights. ARAMA's mission is to serve the corporate and industry needs of members in order that ARAMA can properly represent the interests of all stakeholders and the resident accommodation industry as a whole.